Wife of RAK Ruler Honors 115 Winners of Holy Quran Award February 27,2019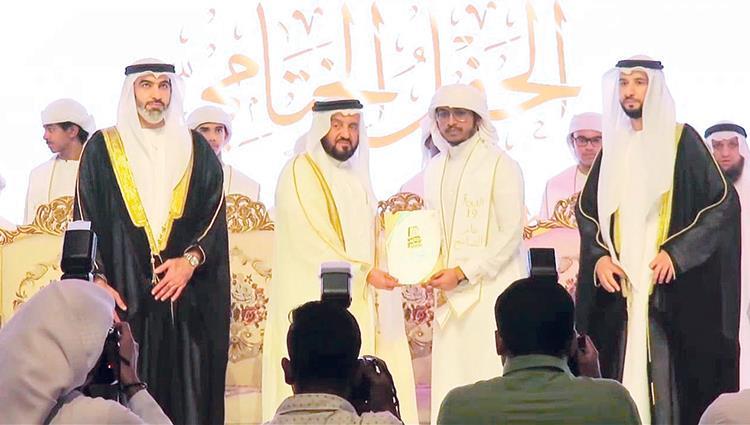 The wife of His Highness Sheikh Saud bin Saqr Al Qasimi, Supreme Council Member and Ruler of Ras Al Khaimah, Sheikha Hana bint Juma Al Majid, honored yesterday 115 female students and participants who won the 19th Ras Al Khaimah Holy Quran Award, in the presence of the wife of Sheikh Saqr bin Khalid bin Humaid Al Qasimi, Chairman of the Board of Directors of the Ras Al Khaimah Foundation for the Holy Quran and its Sciences, Sheikha Mozah Bint Saqr Al Qasimi; Sheikha Jihad Bint Kayed Al Qasimi, members of the Organizing Committee, preachers who provided lectures during the closing activities, female figures and ladies from the local community, the award winners, and their families at the auditorium of the Ministry of Culture and Knowledge Development Center in Ras Al Khaimah.
During the closing ceremony, the wife of the Ruler of Ras Al Khaimah said the Holy Quran is the source of tolerance, moderation, and temperance, through which generations are raised on the values of good morals, inspiring them to adhere to their religion, preserve their homeland, and rally around their wise leadership, and it fills their souls with happiness and comfort as they recite and memorize the Quran and draw from its inexhaustible blessings.

Ahmed Al Shehhi, Director General of Ras Al Khaimah Foundation for the Holy Quran and its Sciences, pointed out that this year, the participation in the award's women category witnessed a large turnout from different age groups, with 337 contestants in the Quran memorization section, 58 of them earned high rankings, with the youngest contestant being 6 years old and the oldest 78 years old. He added that the award is distinguished this year by the fact that it reflects the Year of Tolerance, which was evident in the number and percentage of non-nationals from 58 nationalities, which confirms that the UAE is a country of tolerance and co-existence.
Ahmed Sabayan , Secretary-General of the Ras Al Khaimah Holy Quran Award and Chairman of the Supreme Organizing Committee, said that women accounted for the largest percentage of the participants in the eight competitions of the award, with 738 female participants compared to 682 male participants, in addition to the number of winners, with 115 female winners compared to 59 male winners, which reflects the attention given by the wise leadership to women and the opening of fields of competition, creativity, and excellence to them.