Tourism at Jebel Jais: A Majestic Mountain July 10,2019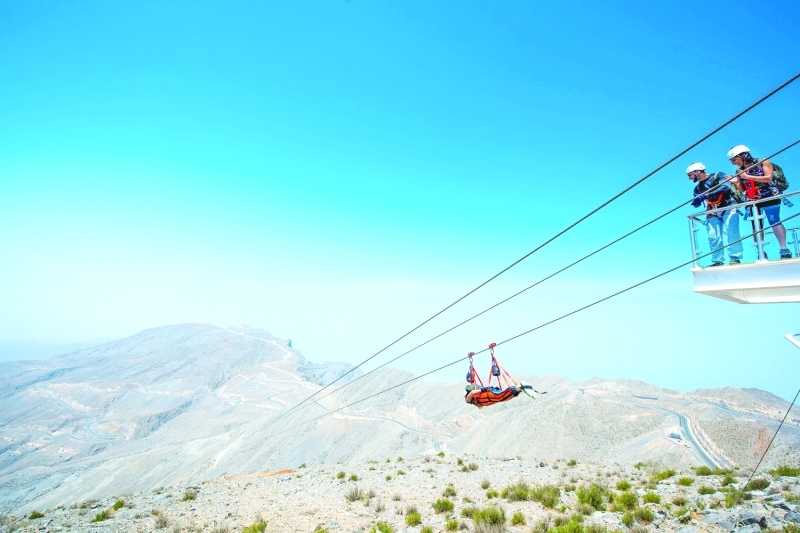 Ras Al Khaimah government authorities racing to develop Jebel Jais. A fast pace competition will turn UAE's highest mountain into a comprehensive touristic destination, able to accommodate the increasing numbers of visitors throughout the year. Led by Ras Al Khaimah Tourism Development Authority (RAKTDA), these efforts will promote RAK's position as the region's fastest growing tourist destination. Aiming to turn RAK into the adventure tourism capital in the Middle East, the vision includes new projects tailored for thrill seekers and those in search for a quiet and relaxed vacation from all ages and nationalities, catering local and international markets.
Infrastructure
The new road towards the summit is being developed by all stakeholders in RAK, according to Ahmed Mohammed Al Hammadi, Director General of Public Works and Services Department (PWSD). He described it as a mega project reflecting the vision and support of His Highness Sheikh Saud Bin Saqr Al Qasimi, UAE Supreme Council Member and Ruler of Ras Al Khaimah to turn RAK into a hub for thrill seekers.
The 36 km road up to the summit has 16 stops with breathtaking panoramic views of Al Hajar Mountains. The PWSD's new plans include improving the restrooms and provide the stops with garbage bins and metal containers designed to safely discard barbecue fire leftovers, after several fire incidents due to the use of plastic bins instead.
Al Hammadi added: "Special Raqib patrols were launched to promote environment preservation efforts and encourage people to discard waste in designated bins. These environment patrols reduce garbage thrown in the nature. Raqib issued 3,820 fines, out of 9,363 in total across the emirate. The visitors' commitment contributed to the beautiful scenery of these mountains."
Steady Growth
Al Hammadi explained that the number of visitors to the mountain have increased, requiring better services, including restaurants, as well as infrastructure development across all stopovers, which are equipped with solar power lights. Additionally, Jebel Jais road has the longest retaining wall in the region. The winter waterfalls and the snow-covered white peaks add to the beauty of the views, according to PWSD Director General.
In addition to providing services in the morning, RAK stakeholders are also focusing their efforts on the evenings, when families and camping lovers gather around and stay up late until early morning. "We are doing everything we can to ensure visitors enjoy their time," says Al Hammadi. Furthermore, special water tanks are dedicated to Jebel Jais to support the restrooms regularly.
National Ambulance CEO, Ahmed Saleh Al Hajeri, explained; "Recently, I met officials from relevant local authorities in Ras Al Khaimah to identify and set up an ambulance center at the summit of Jebel Jais. This would reduce response time to accidents that occur in the area. With big numbers of families, citizens and tourists visiting the mountain, we are witnessing an increase in reports of accidents such as falling on rocks, heat stress and blackouts. Now, we have an ambulance point at the start of the mountain road."
"Lower mobile network coverage on the road leading to the mountain also hampers the efforts to contact the ambulances on duty. All vehicles are monitored as they transport patients and they use an early alert system to notify emergency departments at hospitals to be ready and provide them with all the information they need on the patient en-route. Last year, we received 127 reports from Jebel Jais," Al Hajeri added.
Challenges
"One of the main challenges when responding to Jebel Jais calls is the rugged, mountainous terrain, which slows down our vehicles. The increased numbers of visitors, who drive their own cars and park them in the area, represent another challenge to the National Ambulance efforts to respond and transport patients. However, in extreme and difficult cases, we rely on the Air Ambulance teams from the Air Wing Department at the General Directorate of Security Support, Ministry of Interior or the National Search and Rescue Center. The Air Wing teams were asked to help 9 times last year," Al Hajeri said.
Ras Al Khaimah Tourism Development Authority continues to expand and improve its services, with new projects that have turned Jebel Jais into a global destination, attracting visitors from local and international markets. Thrill seekers and those looking to spend quiet times can enjoy the stunning natural beauty under the blanket of clouds that touch the mountain tops. These efforts are in line with the RAK Government objective to attract 1.5 million visitors by 2021 and 3 million visitors by 2025.
Jebel Jais projects are leading the way for adventure tourism sector in Ras Al Khaimah and the UAE in general. Attracting all kinds of tourists form all ages, these diverse projects strive to empower RAK as the fastest growing tourist destination in the region and turn it into the capital of adventure tourism in the Middle East.
Zipline
Since its inception in February 2018, Jebel Jais Flight, the world's longest zipline, has become the main attraction on Jebel Jais. Starting at 1680 meters above sea level, adventure lovers will slide down at 150 km/h while enjoying the old historical buildings that lay on the mountains.
Luxury Camp: Wonderful hotel experience at 700 meters above sea level
The luxury Camp on Jebel Jais, which is scheduled to open by 2020, is a unique resort that provides a wonderful hotel experience at 700 meters above sea level, surrounded by the picturesque landscape of Al Hajar Mountains The camp will be open throughout the year, with the area being 10 °C lower that the rest of the country.
the camp will comprise a total of 47 luxury units - 34 deluxe tents, 11 one-bedroom tented suites with a private pool, and 2 two-bedroom tented suites with a private pool - complemented further by state-of-the-art facilities such as a health club, heated pool, spa & wellness center, kids' play area, fire pit, and a food court.
Furthermore, the Bear Grylls Survival Academy on Jebel Jais, scheduled to open in Q1 2020, will offer participants a wide selection of courses suitable for individuals of all ages and fitness levels. It was designed to attract outdoor adventure enthusiasts, where participants will be exposed to practical and extreme survival techniques necessary to survive some of the toughest terrain in the wilderness. Techniques include how to make a fire in the wilderness, build emergency shelters, remote medical trauma, training on navigation techniques, rock climbing and extreme weather survival.
Viewing Deck Park
The Jebel Jais Viewing Deck Park features seven viewing decks complete with binoculars to enjoy superb vistas of the Arabian Gulf and the deep, rocky Al Hajar Mountain valleys.
The visitors can enjoy foods and refreshments from the dedicated food truck zone. The park also will have restroom facilities and on-site parking area.
Since its inception in 2016, Jebel Jais Via Ferrata, which is off in summer, became one of the main tourist attractions in Ras Al Khaimah according to Tripadvisor, attracting thousands of thrill seekers.
With mountain climbing, trekking and hiking experience at 400 feet above sea level, as well as three zip-lines, adventure enthusiasts can enjoy the peaceful mountain views guided by seasoned supervisors. Kids as young as 12 and along with seniors up to 65 years old, who weigh 50 - 100 kg can participate, provided they enjoy a medium to advanced physical fitness.
Built in cooperation with Toroverde, the Adventure Park is now among the latest developments in Jebel Jais. It features a number of adventure venues, such as Climbing and Bull Maze.