Saud bin Saqr: Our March Led by Sheikh Khalifa Acheived our Aspirations November 17,2018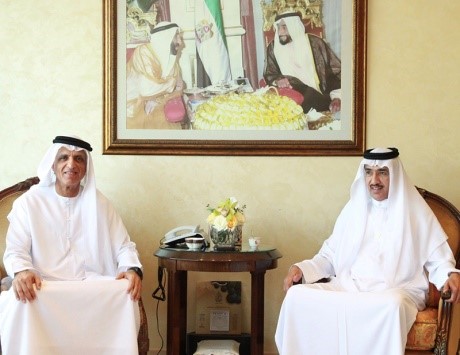 His Highness Sheikh Saud Bin Saqr Al Qasimi, Supreme Council Member and Ruler of Ras Al Khaimah, was briefed on the latest national strategies that ensure continued prosperity, social welfare and economic wellbeing for the UAE people.
This came at a meeting with Ahmed Juma Al Zaabi, Minister of the Federal Supreme Council at the Ministry of Presidential Affairs, at His Highness's palace in Saqr Bin Mohammed City.
"Under the leadership of President His Highness Sheikh Khalifa Bin Zayed Al Nahyan, the UAE has
fulfilled the ambitions of its citizens and is continuing to bolster its stature at the international level," Sheikh Saud said during the meeting.
"As the 47th anniversary of the establishment of the Union approaches, we renew our allegiance to the nation and its leadership and will continue to spare no effort to place the wellbeing of our citizens on top of our priorities," His Highness added.
The meeting was attended by Sheikh Khalid bin Saud bin Saqr Al Qasimi, Chairman of the Board of Directors of the Al Marjan Island Company; Sheikh Saqr bin Saud Al Qasimi; Sheikh Saqr bin Khalid bin Humaid Al Qasimi, Chairman of Ras Al Khaimah Foundation of the Holy Quran and Its Sciences; and a number of sheikhs and senior officials.