Saud bin Saqr Inaugurates the New RAKBANK Building at AURAK November 06,2018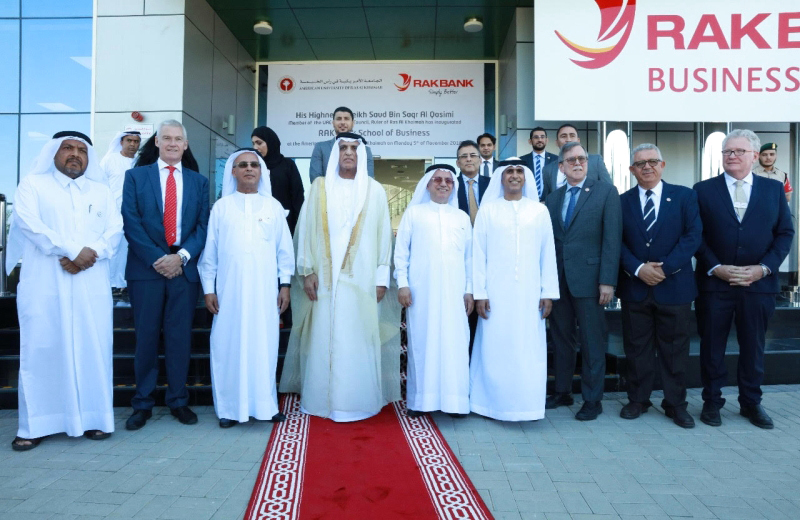 His Highness Sheikh Saud Bin Saqr Al Qasimi, Supreme Council Member and Ruler of Ras Al Khaimah, inaugurated the new RAKBANK building at the American University of Ras Al Khaimah (AURAK), which will house the Business Management school and the Office of Academic Support Services.
The inauguration was attended by Eng. Sheikh Salem bin Sultan Al Qasimi, Chairman of the Ras al-Khaimah Civil Aviation; Sheikh Saqr bin Mohammed bin Saqr Al Qasimi, President of the RAK Sports and Cultural Club; HE Mohammed Omran Al Shamsi, Chairman of RAKBANK; AURAK President, Professor Hassan Hamdan Al Alkim; Peter England, CEO of RAKBANK; Professor Stephen Wilhite, Vice President of Student Success and Academic Affairs and Provost, and a number of officials.

The new RAKBANK Building has been unofficially in service since the beginning academic semester, it's brand new facilities hosting classrooms, service events, and beginning a gradual process of integrating Business and Academic Support faculty and staff into new office settings. Faculty, Students, and Staff have been delighted by the new facilities, the opportunities they bring, and the clear evidence of support shown to AURAK by the business and banking community of the region.
Professor Al Alkim was humbled by the continued patronage and support shown by H. H. Sheikh Saud bin Saqr Al Qasimi, RAKBANK, and the Al Nuami Group, "Investments and enterprises with distinguished contributors such as these are critical to the successful construction of educational facilities essential for developing young minds. We will forever be indebted to these esteemed benefactors as they have altruistically helped lay a solid foundation for a prosperous future for both AURAK and the Ras Al Khaimah community."
Commenting on the announcement of the new RAKBANK building at AURAK was RAKBANK's CEO, Peter England, "Our support of setting up AURAK's School of Business and the Office of Academic Support Services is just another medium where the Bank can invest in the development of the student's knowledge and skills, which aims to help them prepare for future positions where they can play influential roles in the UAE and the development of its economy as a whole."