Saqr bin Saud Al Qasimi: Supporting People of Determination a Top Priority January 28,2019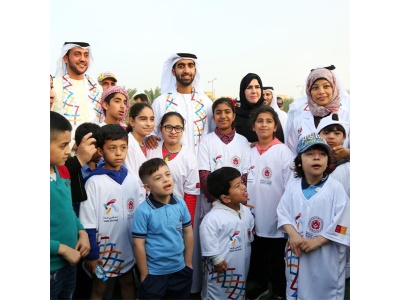 Sheikh Saqr bin Saud Al Qasimi affirmed that the UAE has become a role model in bolstering the participation and empowerment of people of determination, based on the wise leadership's vision for comprehensive social integration of all elements of society including people of determination, which embodies all the concepts that the wise leadership of the UAE seeks to bolster in the community, reflecting the country's positive image aboard. This initiative shows the culture and just policies of the UAE which hold all members of the community as equals without discrimination, and its plans manifest in empowering and training people of determination so that they become partners in the process of development and a natural component of the country's social fabric.
This came during his participation in the "We Walk Together" initiative organized by Ras Al Khaimah emirate in Marjan Island as part of the awareness programs of the Special Olympics World Games Abu Dhabi 2019, in order to raise awareness and involve people of determination who have mental handicaps in walking side by side with members of society in preparation for hosting the World Games Abu Dhabi, which will be held in March 2019.
Participants in the activity included Sheikh Arhama bin Saud bin Khaled Al Qasimi, Director of the RAK Crown Prince's Media Office, Sheikh Mohammed bin Saud bin Khaled Al Qasimi, Nasser Ismail the Assistant Undersecretary of Social Care Affairs at the Community Development Ministry, and a number of Sheikhs, members of the Federal National Council, directors of state and federal departments and establishments, heads of sports clubs in RAK, and a number of artists and actors from the UAE, along a large crowd of citizens.
The activity and the initiative included several sports events, workshops, art workshops for people of determination, an art exhibition, and several initiatives and programs in which people of determination and members of society participated side by side, with everyone becoming involved and leading to the initiative succeeding and achieving its goals.
For his part, Nasser Ismail the Assistant Undersecretary of Social Care Affairs said empowering people of determination was and still is a top priority, adding: "We Walk Together initiative completes its goals, sparing no effort to support all development initiatives in the UAE, contributing to positive change in the lives of people of determination, and rallying the spirit of volunteer work in various social groups, which promotes progress and sustainable development.