RAK Car Festival to feature 600 Modern and Classic Cars March 01,2019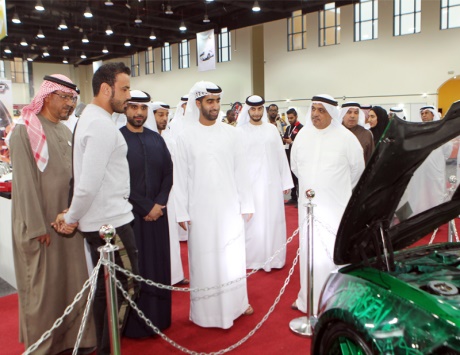 Sheikh Saud bin Saqr Al Qasimi, President of Al Taawon C. S. Club, opened Ras Al Khaimah's first auto exhibition at the RAK Exhibitions Centre, in the presence of Mohammed Ali Musabah Al Nuaimi, chairman of RAK Chamber of Commerce and Industry, board members, and Mohammad Al Sabab, Acting Director of RAK Chamber.
The festival is organized by RAK Exhibitions Centre of the RAK Chamber, and runs until tomorrow Saturday, with the participation of more than 31 local and international companies, and car clubs. The event will also see RAK Police participating with their sport cars, in addition to Sharjah Classic Cars Club, Lexus - Al-Futtaim, Al Tayer Motors- Ford, and Deals on Wheels. More than 600 cars owned by companies and amateurs are expected to join the largest event for classic and modern cars show.
Sheikh Saqr Bin Saud recalled the outstanding participation of international companies and car dealers, in light of the importance of the festival, considering the added value it puts into the economy of Ras Al Khaimah, especially in the field of tourism activities.
"The exhibition is going to witness more than 25 very popular events dedicated for cars. And it is expected to see a large turnout and will host the Emirates Drift Championship in its third and last tour" said Al Nuaimi