Outstanding Conclusion for European Challenge Tour November 05,2018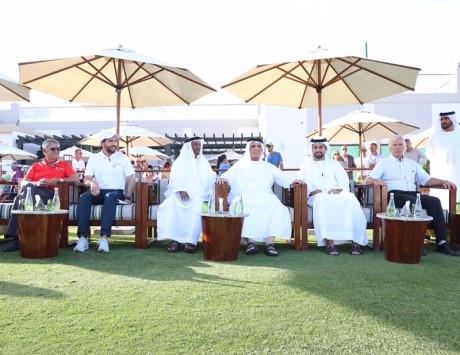 In the presence of His Highness Sheikh Saud bin Saqr Al Qasimi, Member of the Supreme Council and Ruler of Ras Al Khaimah, Spanish golfer Adri Arnaus won the Ras Al Khaimah Challenge Tour Grand Final, the final round of the European Challenge Tour held under the title "Road to Ras Al Khaimah." This event is the first time a final round in the Challenge Tour is hosted by RAK at Al Hamra Golf Club, featuring a selection of top golfers in the second part of the European Tour, who came to the northern Emirate to compete over the title.
Arnaus finished four times under par in the four rounds of the Tour, ending the competitions with a total of 17 under par, and with this the 24 year-old earned 70,000 points in the Road to Ras Al Khaimah ranking, taking him from 9th to 2nd place and guaranteeing him a spot in the next season of the European Tour which will be titled "Race to Dubai."
Sheikh Fahim bin Sultan Al Qasimi, chairman of the Emirates Golf Federation and Arab Golf Federation, presented the championship cup to the Spanish golfer, in the presence of Haitham Mattar, CEO of the Ras Al Khaimah Tourism Development Authority.
Among the other results, fellow Spanish Pedro Figueiredo barely managed to guarantee a position in the European Tour after sharing the 13th position in the championship, moving from 17th to 15th in the Road to Ras Al Khaimah ranking.
Joachim B. Hansen finished in first place in the European Challenge Tour, with the Dane finishing the season with a total of 222,320 points after earning 3,000 in RAK, leading the Road to Ras Al Khaimah ranking for this season.
Haitham Mattar, CEO of the Ras Al Khaimah Tourism Development Authority, said: "We congratulate Arnaus for winning his first title at the Challenge Tour after winning the final of the Ras Al Khaimah Challenge Tour Grand Final. This championship played an important role in showcasing the golfing credentials and destinations in RAK to an influential audience of international athletes and guests, in addition to many golfers in the region who kept up with the championship intently."
For his part, Arnaus said: "Winning the championship like this is something I haven't done before on the pro level. Since day one, I managed to maintain the lead and play well, which makes this day more special. This is my first full year as a pro golfer, and my main goal was to reach the European Tour. Everything in Ras Al Khaimah was great, the course was in an amazing condition, the hospitality was excellent, and the people were very nice and friendly."