Lamsat Wataniah Attractive Traditional Activities on RAK Corniche November 03,2018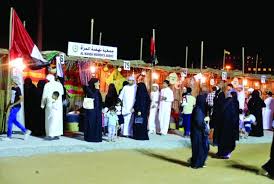 "Lamsat Wataniah" (National Touches) exhibition on Al Qawasim Corniche in Ras Al Khaimah, attracted the residents and visitors of the emirate to participate in the colorful events and activities.
Organized by the Ras Al Khaimah Department of Economic Development (RAK-DED), the event continues for two months and invites "Alghad License" holders to participate in the exhibit. The event will showcase various product, as well as performances by traditional bands to celebrate the local heritage.
Moahmmed Al Mahmoud, Acting Deputy Director General and Head of Business Development Department at RAK-DED, said that the 2nd edition of the exhibition, which continues until the end of December aims to promote the products of "Alghad License" holders issued by the Department to support citizens making crafts at home.
He noted that the first edition of the exhibition saw a big participation from all segments of society, which encouraged the Department to organize the second edition.
He also pointed that the exhibition includes a wide variety of locally produced products such as food products, jewelry, hand-made craft, women clothing, and perfumes among others. 50 trade and "Alghad License" holders will participate in the exhibition.
He also confirmed that the Department is keen to provide support to holders of these licenses. This support includes increasing the number of activities in the program, exempting People of Determination from registration fees for 3 years, this also includes inmates of correctional and punitive institutions. He also explained that the exhibition will provide a variety of products by dividing the 50 licenses to 4 periods until the end of December.
Folk bands will be presenting traditional songs and dances, as well as other bands bringing the traditions of other countries, such as Dabkah and Indian dances, and talent, magic, and kids shows.
Citizens and residents of Ras Al Khaimah praised the event which will make Al Qawasim Corniche a popular attraction during this time of year.
Moza Nasser said that the second edition of the exhibition will make the location a touristic attraction for the citizens, residents, and tourists to enjoy the variety of shows and activities it provides.
She also pointed that the exhibition will give "Alghad License" holders the chance to showcase their products, in addition to the activities dedicated for kids and adults.
Abdulla Al Shumaili said that Al Qawasim Corniche is one of the key locations in Ras Al Khaimah, attracting all segments of society; especially at this time of year. Launching the exhibition with the various stores and traditional food outlets it provides will increase the location's popularity for all age groups.
He also said that such activities help diversify the touristic attraction in the emirate; especially with the high level organization.