HH Shiekh Mohammed bin Saud Launches a Program to Upgrade the Buildings in Ras Al Khaimah October 13,2018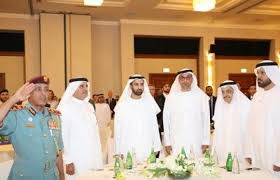 HH Shiekh Mohammed bin Saud bin Saqr Al Qasimi, Crown Prince of Ras Al Khaimah, attended yesterday the launch of "Building Upgrade Program" launched by Ras Al Khaimah Municipality.
The launch ceremony was held at the Rixos Bab Al Bahr on Al Marjan Island in Ras Al Khaimah, and was attended by a number of government officials and private companies executives, as well as environmental and energy services companies, and media representatives.
The program, implemented by the Energy Efficiency and Renewables Office at Ras Al Khaimah Municipality, aims to upgrade around 3000 building by the year 2040, as a key part of the "Energy Efficiency and Renewables Strategy 2040" in Ras Al Khaimah. The strategy was launched under the patronage of HH Sheikh Saud Bin Saqr Al Qasimi, Member of the Supreme Council and Ruler of Ras Al Khaimah, and it aims to save 30% of energy and 20% of water and generate 20% energy from renewable sources by the year 2040.
Munther bin Shukr Al Zaabi, Director General of RAK Municipality said that this program aims to reduce water and energy consumption in government buildings by at least 20% by 2022, as part of the Emirate's "Energy Efficiency and Renweables Strategy 2040".
During the launch, a number of speakers stressed that this project will bring major improvements to the water and energy consumption equipments, as well as improved insulation in buildings to achieve long term savings. The upgrades will include measuring, monitoring, and managing energy consumption in assets, and promote actions which help preserve natural resources.
The strategy also aims to implement green building regulations, which apply to modern buildings