Agreement to Operate Solar Power Project in Ras Al Khaimah October 26,2018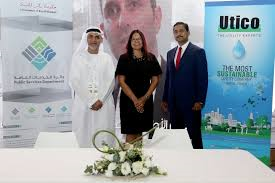 The Public Works and Services Department, representing RAK Government signed an agreement with Utico for developing and operating a 16 MW LFG-Solar project. The project comes in line with the new UAE energy strategy that aims to increase the contribution of clean energy in the total energy mix. The agreement was signed by Engineer Ahmed Mohammed Ahmed Al Hammadi, Director General of Public Works and Services Department, Government of Ras Al Khaimah and Richard Menezes, Vice-Chairman and Managing Director of Utico, in the presence of Ms Sonia Nasser, Director of Ras Al Khaimah Waste Management Authority
Eng. Sonia Nasser said that this project was conceptualized over a period of few years, and the signing is a result of tremendous efforts and bidding processes.
For his part Richard Menezes said: The benefits of the project will touch on all consumers, and the agreement will be implemented to help all investors in the UAE.