RAK is Brightly Adorned for Occasion of National Day November 24,2018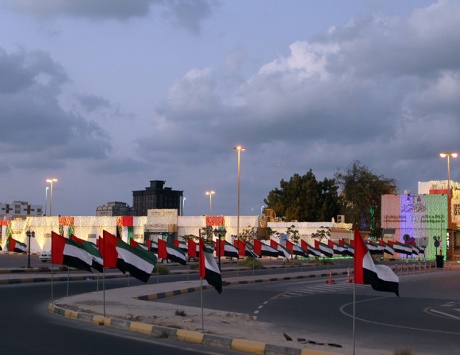 In celebration of the 47th National Day, the Ras Al Khaimah Public Service Department has decorated the main roads and roundabouts in the Emirate with aesthetic geometric shapes, illuminations, and artistic images showcasing the heritage of the UAE. The expressive decorations consist of 6,000 UAE flags draped across Ras Al Khaimah to emphasize the sense of belonging and loyalty to the homeland. Preparations for the celebration additionally include the installation of lamps and light-up billboards.
Mohammed Ahmad Al-Hamadi, Director General of RAK Services, said: "The Department is working on beautifying the city and its streets and boulevards with a variety of captivating and colorful lighting of world-class quality, making Ras Al Khaimah brightly-adorned for National Day and Commemoration Day. The Department outsourced its decorations and lighting from professional companies, which have decorated light poles withUAE flag. The National Day and Commemoration Day decorations include 3D and large, geometric shapes carrying the colors of the flag." The decorations cover 14 main roundabouts in the neighborhoods of RAK city and the rest of the Emirate, including the Al Kharan roundabout, the former Al Sa'a roundabout, the Cornice Street roundabout, and the entrance to the Emirate. The decorations are installed on 10 main streets, along with the Al Ittihad Bridge, the Cove Rotana Hotel Bridge, and the old RAK bridge connecting between the two banks of the RAK estuary.
Al-Hamadi said the UAE flags were distributed in several areas throughout RAK, with damaged flags replaced as part of the "My Flag is My Responsibility" initiative. He said the models, designs, and shapes selected this year to decorate the Emirate embody the values of belonging to the country and loyalty to its leadership, reflecting the aspects of the two national occasions, and renewing commitment to the UAE and its leadership, building upon national achievements, and expressing pride in the symbols of the country and in the National Day.